SWPPP stormwater compliance is a mandatory component of every construction project and industrial site. Moving to an electronic SWPPP template enables you to maximize the detail, usefulness and accuracy of field data. In doing so, you not only improve efficiency but provide greater value for clients. Citizens Energy are doing just that, implementing an easy and effective way to automate repetitive field data collection and environmental reporting tasks. By bringing online speed and consistency to SWPPP inspections, the organization has significantly improved SWPPP report accountability and cut project costs.

SWPPP Template Moves from Paper to Electronic Format
SWPPP inspection managers know from experience that each project comes with inefficiencies and, therefore, the potential to create efficiency gains. But how can you actually address those workflow challenges? One example lies in the ability to easily fine-tune successive iterations of electronic SWPPP inspection forms. In doing so, you naturally speed up data collection and minimize errors. With integrated field data collection and reporting software, you have a clear path to simplifying your project and process. You reap the benefits of improved productivity and profitability.
Is Adopting Electronic SWPPP Reporting Worth the Effort?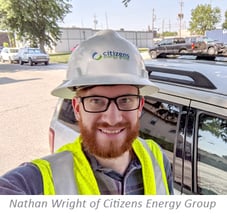 A change in the SWPPP compliance workflow affects many people, so the question of whether it's worth the effort is valid. After implementing Wildnote's SWPPP inspection forms, the answer from Citizens' Nathan Wright is a resounding, "Yes!" Nathan has been through the conversion process and enthusiastically endorses the value of transitioning to an electronic SWPPP template.
Prior to Wildnote, everything was written down with pen and paper. Pictures were taken on a phone or camera. After the field event, a lot of time was spent uploading and renaming pictures, and then trying to describe the file path location on the paper form. The process was cumbersome, clunky, and sorting through all the records was a nightmare.

With Wildnote, everything is centralized in one place. The pictures are embedded in the report file itself, completely eliminated sorting and management. Additionally, if the person doing the inspections changes, then the organization and layout remain the same. These characteristics vastly aid in flexible scheduling and training.

- Nathan Wright
Powerful SWPPP Photo Management Cuts Costs
Without an effective management system, the day-to-day hassle of photo management consumed excessive time. One of the major advantages for Citizens was Wildnote's integrated and streamlined handling of SWPPP report photos. In a photo-heavy activity like SWPPP compliance, those time savings add up quickly.
Every violation and every corrective action to fix them requires documentation to prove that the Best Management Practices (BMPs) are in place and in good repair. I frequently upload more than a hundred photos a week. - Nathan Wright
Processing 100 photos per week from field forms to final SWPPP report quickly delivered significant savings. In this case, reducing photo administration by just 5 minutes per photo would save one full day of labor each week.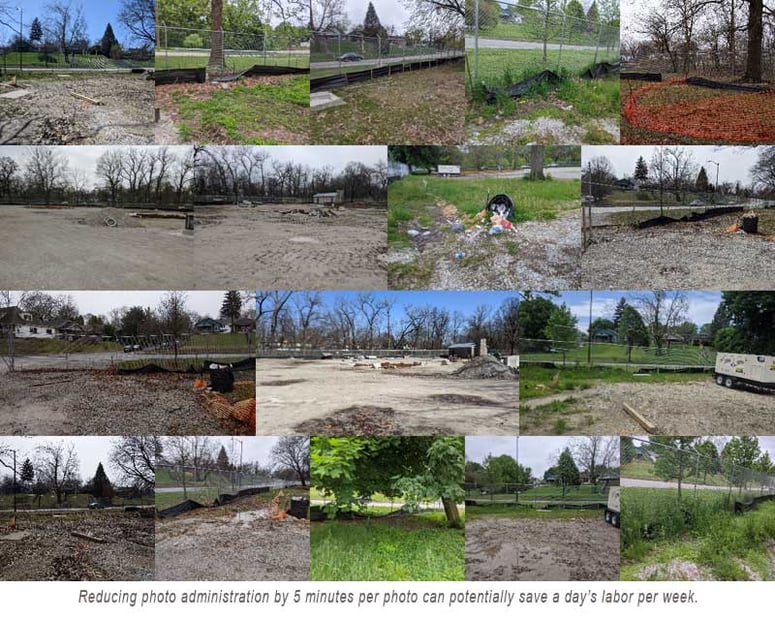 Easily Update SWPPP Inspection Forms
Conforming with constantly changing external regulations and internal policies is a common SWPPP compliance challenge. This was just one of the consistency challenges Nathan faced when he joined Citizens. When he took over responsibility for SWPPP stormwater compliance, he initially needed to tackle consolidation and restructuring.
Everyone has a slightly different way of doing things and brings different styles to the work, which creates inconsistencies. These inconsistencies create hurdles to training, record keeping, and communication. I solved that problem by consolidating the existing records using Wildnote and then restructuring and rewriting the SOPs to utilize Wildnote's features. - Nathan Wright
By using Wildnote to bring consistency to the existing records, Nathan laid the groundwork for greater transparency, accountability and accessibility going forward. The key to keeping documentation current is a tool, like Wildnote, that allows for a flexible and iterative process when designing a SWPPP template.
How Does Wildnote Provide Consistent and Accessible SWPPP Stormwater Data?
After the consolidation process, Nathan moved on to designing new versions of the SWPPP inspection forms in Wildnote. This simple process involved adding and deleting measures to satisfy the updated Standard Operating Procedures (SOPs).
Using Wildnote, there are no old paper forms to collect and shred, and no new forms to distribute. Performing a "Sync All" downloads any changes made on the web app to the mobile device, making updated survey forms instantly available to field techs. Additionally, project managers have instant access to field conditions as soon as data collectors sync their work to the cloud. The result is consistent and accessible SWPPP templates and data across the organization.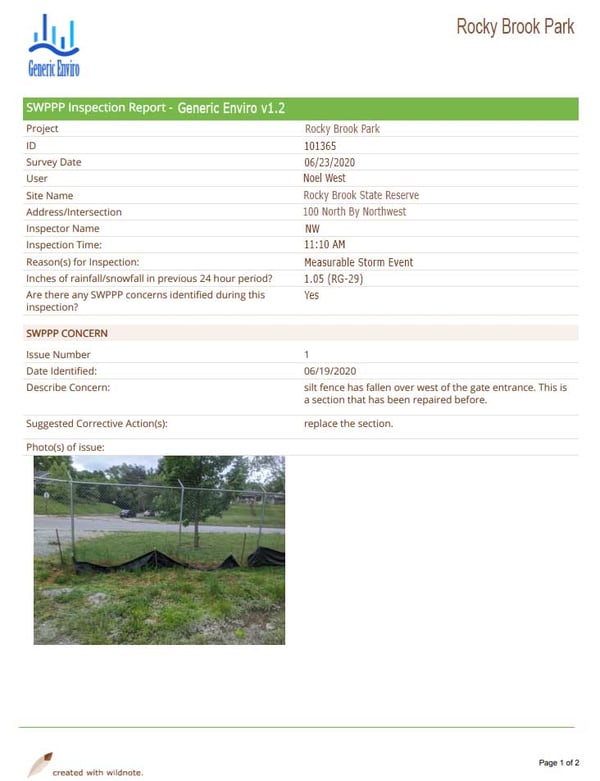 Sample SWPPP Inspection Report with Integrated Photos. (Download PDF sample)
With Wildnote, there is no question of whether everyone is using the right form and the right version of that form. All you have to do is press the sync button and it's ready to go. Thus creating the data consistency and ease of access that is essential to quality project management. - Nathan Wright
There's no question that moving to an electronic SWPPP template opens the door to stormwater compliance efficiencies. When you collect field data in a mobile app, however, it involves more than reproducing a paper data collection survey in digital form. The power of the platform, and the benefits of cloud technology, allow you to put entirely new workflows to use. This workflow remodeling enhances and improves field data collection, photo management, and agency reporting across the board. By truly optimizing the technology for SWPPP compliance, Citizens quickly found ways to maximize returns impossible with manual paper processes.
SWPPP, template, inspection forms, stormwater compliance, SWPPP report, SWPPP requirements
Related Posts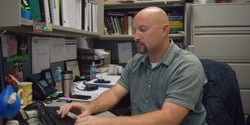 February 28, 2017